"Total Solution for Training, Documentation, E-books and KPO Services"
Punyam Academy Pvt. Ltd. is a certified training provider company, which offers various E-learning Training Courses, Documentation and ppt presentations, E-books and KPO services for third party and customer audits. We are a leading name in E-learning, training and certification for ISO standards and all other types of management system standards. Punyam Academy specializes in a complete range of courses on awareness, lead implementer, auditor and lead auditor courses based on ISO 9001, ISO 14001, ISO 45001, ISO 22000, ISO 27001, OHSAS 18001, ISO/IEC 17025, ISO/IEC 17020, ISO/IEC 17021, ISO 27001, ISO 50001, ISO 13485, ISO 20000, ISO/IEC 17024, ISO 17034, ISO 22301, NABH and other management system standards as well as training courses for Certified Calibration Engineer and management functional area improvement. We provide E-learning courses on all of these topics through effective, enjoyable and time-saving online training sessions and webinars with the concept of do it anytime, anywhere. Students can log in and log out in their free time.
WHO WE ARE?
We have a rich experience of various ISO system certification consultancies, having a large client base with clients in more than 27 countries. Our team has conducted more than 300 in-house and public training programs as well as online corporate training sessions in more than 20 countries. Our courses are certified by Exemplar Global and the CPD, which are leading companies of the USA and the UK, respectively. Our management systems are certified by IAF and UKAS accredited certification bodies. Our Global Recognitions and Certifications are listed below.
OUR GLOBAL RECOGNITIONS
1. Exemplar Global Recognized Training Provider
Punyam Academy Private Limited is an Exemplar Global - USA recognized training provider. We offer Exemplar Global certified courses for auditor /lead auditor training and vocational training in the areas of instrument calibration, food safety, industrial safety, etc. Sample certificate with logo of Exemplar Global is put on the pages of courses which are certified by Exemplar Global.

The students who complete our Exemplar Global certified training courses for ISO auditor/lead auditor will receive a course completion certificate with Exemplar Global logo on it and this will help them to achieve global recognition.

The students who complete our Exemplar Global (old name RAB QSA) certified lead auditor courses will receive benefits from Exemplar Global, as listed below: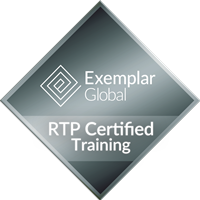 Benefits to Exemplar Global Students
Ongoing professional development and support for 12 months.
Access to a self-coaching behavioral assessment.
Access to an exclusive social media community and the ability to interact with other graduates and industry professionals.
Development opportunities through access to Exemplar Global's webinars, online articles, events, and online resources to enhance their employment potential.
2. CPD Certified Training Courses
Punyam Academy Private Limited provides 20 courses certified by the globally renowned The CPD Certification Service, UK. By becoming a CPD certified training course provider, our aim is to present knowledge as industry experts, create new business opportunities, build our brand, and increase the confidence of our students by conforming to continuing professional development principles. CPD certified training means that the learning activity has been tested for integrity and quality, and reached the required Continuing Professional Development standards and benchmarks.

The students/course participants who complete our CPD certified online training courses will receive a course completion certificate with CPD Certified logo that will help them to achieve global recognition and earn CPD points/CPD hours for skill up-gradation annual training consideration for their job profile. Enrolling in courses certified by CPD Services ensures that academic and practical qualifications of student are relevant, up-to-date and of global standard, which allows individuals to continually 'up-skill' or 're-skill' themselves, regardless of occupation, age, or educational level. Check the certificate here.
3. ISO 9001:2015 Quality Management System Certified
Punyam Academy Private Limited is an ISO 9001:2015 certified company. Our company has been audited by an experienced auditor from an UKAS-accredited certification body, which has provided us ISO 9001:2015 certificate with UKAS logo. It means that we have a world-class quality management system with a set of principles that ensure focused, informed, scientific and proven approach to the management of business activities to consistently achieve customer satisfaction and continually improve operational effectiveness. We take all the necessary precautions to improve the processes and plans as per internationally recognized standard.
4. ISO/IEC 27001 Information Security Management System Certified
Punyam Academy Private Limited is an ISO/IEC 27001:2013 certified company. Our company has been audited by an experienced auditor from an IAF (USA) accredited certification body, which has provided us ISO 27001 certificate with IAF logo. It means that we have a world-class information security management system in place to ensure confidentiality, integrity, and availability of data. We take all the necessary precautions to protect our data as well as customer data and to meet the highest internationally recognized security standard.
Being an ISO 27001 certified company:
We are committed to data security;
We operate in accordance with the highest information security practices and standards;
Our customer data is rigorously protected;
We assess, manage, minimize and eliminate risk exposure and vulnerabilities;
We have a systematic approach to managing information security risks affecting the confidentiality, integrity and availability of company and customer information;
Information security is embedded in our company's policy. Our entire team prioritizes information security.
We undertake that we will continuously demonstrate our commitment to data security in the future also.
5. ISO 29993 Certified for Learning services outside formal education
Punyam Academy Private Limited is an ISO 29993:2017 certified company. We have implemented a Management System meeting the system requirements of learning services outside formal education and achieved ISO 29993:2017 certificate with UKAF logo from an UK-based accredited third-party certification body. The ISO 29993 certification ensures the effectiveness of our learning service management system (outside formal education) in order to provide professional training to our students.
6. CPD, UK Member
Punyam Academy Private Limited is a member of The CPD Certification Service, UK. CPD stands for Continuing Professional Development and it describes the learning activities professionals engage in to develop and enhance their abilities. The CPD has certified our major courses conforming to the continuing professional development principles based on the values of British and European standards. We are authorized under the CPD standards and code to deliver our CPD Certified courses and trainings to clients, offering the possibility of completing a great range of professional courses with various skill-sets.
7. ISO 22301 Business Continuity Management System Certified
Punyam Academy Private Limited is an ISO 22301:2019 certified company. It has implemented a Business Continuity Management System and achieved ISO 22301:2019 certificate from an USA accredited third-party certification body. ISO 22301 Business Continuity Management System accounts for our company's complete ecosystem to ensure business continuity and mitigate risk for operational delays in the forms of utility disruptions, IT outages, pandemics, etc. and ensure uninterrupted course delivery to our customers

WHY LEARN AT PUNYAM ACADEMY?
There is a discernible trend in the corporate world that every enterprise wants to project itself as an entity whose employees have knowledge of ISO and other management system standards as well as required technical knowledge and awareness on latest management and business improvement concepts to achieve functional excellence. Moreover, companies need to develop their in-house auditors' team capable of internal auditing of their existing management system.
WHY DO COMPANIES TAKE OUR TRAINING COURSES?
Our courses are developed and reviewed by highly experienced trainers having rich experience of more than two decades.
We provide Quality training courses in simple English and they are presented by highly qualified instructors with latest teaching techniques. Each course includes in-depth learning, followed by session test, final exam and course certificate to the students. The students can repeat the exam to pass the session test and final exam.
We offer a variety of courses on ISO awareness, implementer, auditor, lead auditor and for different need of each student. We provide a platform of e-learning, training and certification, which makes it convenient to learn from your office or home or anywhere in the world. Thus, we provide career-boosting support to individuals.
Our training courses are used globally by governments and businesses both in manufacturing and service sector. We provide wide range of topical solutions - from webinars, E-learning, ppt packages to case studies and work shops.
The training certificate is generated on course completion. There is a certificate validation option to verify the certificate. We are specialized in ISO training and consultancy and our branded image in the market gives value of of credibility to our company's certificate, globally.
We use the latest technology for instant delivery of our courses. Also Progress report is also provided.
Our training ppt package is a good tool to establish and implement management systems and better control in routine work, reduce cost, improve profitability, improve customer satisfaction and establish inhouse training on ISO standards.
In ISO and management area consultancy, our group company is having a leading name in market and having branded image of 100% success rate. Organizations approach us to make their own training material on any ISO standard to develop internal training course
Our courses are lowest priced globally. Student and corporate discounts are also available on our courses. Our payment gateway gives certified secured online payment option. One can save, read or print our study material and keep it with them
There are Four Options to Get Training on ISO System Awareness and Auditor
Enrol for E-Learning Courses - Complete the e learning course and get the training certificate
Enrol for pre-scheduled Classroom Training - Attend our class room training and get certified
Enrol for Webinars - Enrol for periodic webinars, get the training and clarify your doubts
Buy Ready PPT Packages - Purchase our ppt package and use it for inhouse training
WHAT WILL YOU GET in E-learning Courses?
All the training course materials are prepared by experts of the subjects, which will give you accurate information about what trainee want to learn.
All the students need to attempt session exam and final exam at the end of the training course, which helps them to evaluate their knowledge.
After completing your course and clearing exam, you'll get a course certificate. This certificate can be validate with unique id and name of user anytime from our website.
Organization can simply use a copy of the course certificate as valid training record.